The somewhat jaded, mumbling narrator who uploaded a series of videos for his friend to see. He is likely the creator of the "u/paleskowitz" Reddit account, which brought Petscop to the Internet's attention.
His full name may be "Paul Leskowitz", according to the above info and Petscop 23.
His YouTube channel was transferred to an unnamed "family" who encourage him to produce more recordings of the game. He claims to be intimidated by this family.
Paul is somehow directly involved with the events in Petscop, although it isn't clear as to exactly how.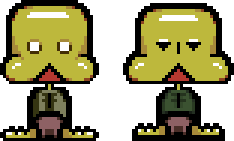 A yellow, armless monster. He is the default player character.
The unofficial name "Naul" was used by fans of the series before Petscop 18, where its internal name, 'guardian' was revealed. A running joke is that he is unable to open doors, likely due to his lack of arms. It's not yet known what he is supposed to be or represent.